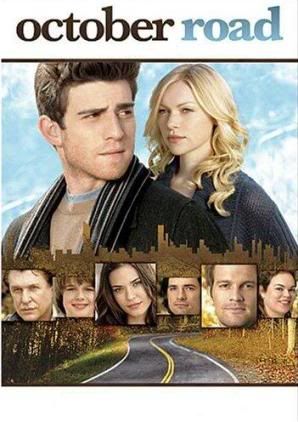 October Road is one of those shows that gets criticized for being predictable and sappy, but is in fact a great little dramedy in the vein of movies such as Beautiful Girls and No Looking Back.
The show is about Nick Garrett (played by Bryan Greenberg of the cable television gem Unscripted), who leaves Knights Ridge, Massachusetts, for six weeks to travel around Europe, with four high-school best buds and a girlfriend Hannah (played by Laura Prepon of That '70s Show fame) patiently waiting for his return.
Ten years later, Nick lives in New York and is a successful novelist, having written a book, Turtle on a Snare Drum. But he has yet to write a second book. To make matters worse, his first success is tightly based on his experiences growing up, and he has made a lot of frenemies as a result of divulging his version of the truth to the masses -- so much so that he's never even been back home since he left.
But what would a good drama be without some tension? Nick decides to return to town under the guise of a new teaching gig at a local university, and havoc ensues.
Hannah now has a 10-year-old son, Sam (played by Slade Peace), who Nick comes to believe is his child. Along with the main storyline, involving Nick, Hannah, Hannah's boyfriend Big Cat (played by Warren Christie), and Nick's pseudo-girlfriend Aubrey (played by Odette Yustman), there's also the shut-in Physical Phil (played by Jay Paulson), who hasn't left his house since 9/11; bitter Eddie (played by Geoff Stults), with whom Nick was supposed to start a business when he got back from Europe, and who currently has a crush on Janet (played by Rebecca Field); and Ikey (played by Evan Jones), who is having an affair with the wife of Owen (played by Brad William Henke).
Free Download:
http://dl.btjunkie.org/torrent/October-Road-seasons-1-amp-2-complete/2908061af9c84df363fb0082a1d9fc87caf010058b46/download.torrent